On Friday, Feb. 25, 2001, 1stopKorea had a chance to sit down and talk with Goh Kun, the current Mayor of Seoul, in a wide-ranging interview on life here in the big city. Here's the first part of our interview, focusing on Seoul traffic, preparations for the World Cup, the Mayor's suggestions on where to visit in Seoul and his message to expats already living here in Korea.
1stopKorea: In a recent survey of foreigners living in Seoul traffic congestion was again voted the number one problem faced by city residents and commuters. What is your administration doing to address this issue?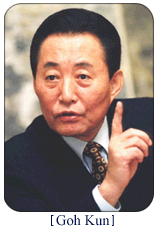 Mayor Goh: I think the best way to solve the traffic problem has to be the use of public transportation; specifically the subway. That's how important I think the subway is. Within the year lines 5, 6 and 7 (good news for those living in, or visiting, Itaewon and Hannam-dong!) of the Seoul Subway line will be finished. This will bring the total subway line to over 300 kilometers. The use of the subway has to be the major means of solving this problem.
Another project we're finishing up is the Nebu ring road around Seoul [to allow quicker traffic flow around the city rather than through it]. We are also implementing a more scientific traffic control system, redesigning and electronically linking the traffic light system and scientifically changing the lanes within each road. All this is in addition to building an advanced traffic management center. We hope these measures can help the problem but public transportation will remain the key.
1stopKorea: In the past the government tried implementing a shipbuje system, wherein one day in 10 (depending on the last digit of a car's license plate number) people were not allowed to drive that car. Are there any plans to try this, or a similar system, again?

Mayor Goh: At this point in time we are not planning to try the shipbuje system again. We've tried launching a campaign to encourage citizens to follow this idea but it has had no effect.

1stopKorea: What are your plans to encourage people from overseas to visit Seoul and afford them a rewarding time while here?

Mayor Goh: I have two main ideas on that. 'Things that you can only see in Seoul'. We have to create sites of interest to foreigners, things that they can only see here in Seoul. Traditional culture, historical places plus events and sites that can only be seen here. This is what we have to have in order to attract people. This is the first thing. For example, some of the things we're working on are; the world's largest fountain for Riverside Park, a 200 meter high millennium 'Peace Gate' for the new World Cup Stadium, etc.

The second thing is to try and reduce some of the more unpleasant aspects of a visit to Seoul. Here there are three things we're working on: trying to improve the signboards (neon and otherwise) around town, bringing road signs up to global standards and improving the cleanliness and appearance of public restrooms. We've launched a campaign to get all three of these up to global standards by the World Cup in 2002.

1stopKorea: We've heard you were quite successful in gathering volunteers to help with this campaign and to prepare for the World Cup. Could you let us know some of the specifics?

Mayor Goh: We're calling this the 'Citizen's World Cup'. By last year we had already signed up approximately 30,000 people interested in helping out with the World Cup through our 'Volunteer 21' program. For example we've had 'deluxe' [black] taxi drivers volunteer to be English or Chinese 'guides'.

1stopKorea: With the World Cup and the ASEM conference, Seoul is about to see a huge increase in tourism. What place or site would you like to suggest to these visitors as the most 'Korean' thing they could see? What sites best bring out Korea's traditions and culture and offer something the visitor couldn't find anywhere else?

Mayor Goh: From a historical perspective the main sites in Seoul have to be the four main palaces; Toksu Palace, Kyoungbok Palace, Biwon and Changkyoung Palace.

From the perspective of nature and the environment I don't think there's another major city in the world with a river as big and as wide as the Han. Of course other cities, Paris and London, have rivers but none of them are more than 200 meters wide. By comparison the Han is huge, over 1200 meters across. A cruise down the Han offers a view not only of one of the world's largest cities but also the chance to take in mountain scenery from Mt. Bukhan to Mt. Kwanak, Mt. Dobong, etc.

Also I can get on the subway from here [City Hall] and within an hour, in 30-40 minutes even, be hiking on one of those mountains. I can't think of a similar city in the world. I think those are the special things Seoul has to offer a visitor from overseas.

1stopKorea: A lot of the people who read our site are expats living in Korea. Is there anything in particular you would like to say to them? Any message you would like to get across?

Mayor Goh: I've set up a regular meeting, twice a month, with representatives from Seoul's expat community. For example, the head of the EU in Seoul, the head of AMCHAM (the American Chamber of Commerce), etc. I hear a lot from these people; the difficulties faced by foreigners in Korea, what's happening in the expat community, a lot of useful information. The three things I mentioned earlier as part of our preparations for the World Cup (improving signboards, bringing road signs up to global standards and improving the cleanliness of public restrooms), were things they let me know about during those meetings.

In addition, to help newly arriving foreigners with some of the information they may need, we've asked foreigners already living here to select Korea's '30 best'. The 'foreigner's choice tourism top 30 prize' designates the top 30 tourist sites, restaurants, places to stay, etc. This prize allows foreigners who have experience in Korea to provide focused, useful recommendations to those visiting or moving to Korea.

The message I would most like to give those expats living here is that the face of Seoul is changing. We're doing our best to eliminate the inconveniences and increase the positive aspects [of life in Seoul].

We've launched special festivals for your enjoyment. The first one was last October's Drum Festival. Also in October was the Media City Seoul Festival celebrating Seoul's and Korea's media arts. We expect to continue and improve on these festivals this year and on into the future.