Mr. Big

Tired?

A little

Hey, you guys are just normal guys. You don't have any big egos.

We're just guys who love to play and perform, and we like to get in touch with our fans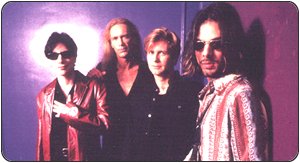 How's life on the road? I know you've been in Japan for about a week and after you leave here you go straight to Indonesia for 8 concerts.

Life on the road is hard. Everybody misses their family and friends, but we have to do this because our loyal fans want to see us play live. It's nice to get out and see our fans and take pictures with them and sign autographs for them.

Don't you ever get tired of that? Honestly, it has got be a little monotonous signing your names and having jetlag everywhere you go.

Actually we really enjoy doing any kind of promotions for a tour, and if it means signing autographs all night then that's what we'll do. We never want our fans to think we're too busy for them. Sometimes we'll have a late interview and Eric can't come because he needs to rest his voice and sleep, but most of the time we're all there.

Now, can explain to me why you are SO famous and loved in Asia? Sure, you're very popular in the States and Europe but in Asia you're adored.

Probably because we take out Asian fans seriously. Many artists don't care about Asia. When we became popular here, we thought it was a big honor. Asian countries have a great culture and tradition. Respect is one of the most important aspects of their lives. We always try to have the best manners and stay as professional as possible. We also LOVE our fans and we try to be as personable as we can.

You guys are incredibly personable and cordial. I was really impressed! Some artists aren't as polite as you. I won't mention any names but his first initial is Yngwie and his last initial is Malmsteen. Anyway, when you guys were growing up who was your role model or someone you looked up to?
BS: My family. I had a close family and they always supported me.
EM: My father.
RK: My family too. They encouraged me to play and improve.
PT: There isn't any one person, but obviously Jimi Hendrix was sort of a role model. The way he played and his passion for music.

The Internet is the land of opportunity. Do guys plan to ever release a new song on the Internet first or have a live show broadcasted on the Internet?

We all have our own individual websites and I try to write back to every person that e-mails me. My secretary and I go through them once a week when I'm back home. There are a lot of possibilities.

Hey, what happened to Paul Gilbert?

Well, he kind of left.

Why? What happened?

He came into the studio one day and said I quit.

Nice, that was cool.

It's ok because we found a great guitarist in Richie Kotzen.

How did you get a hold of Richie?
EM: He came to one of the places I was playing. We met and talked and the rest is history.

Here's a question I always wanted to ask. When you're out on the road, I'm sure there are a lot of women that throw themselves at you because your famous and everything. I know some of the band members are married; does this become a problem at all?

No, not at all. Sure, we meet a lot of women, but if I have a girlfriend then I stay loyal to her.

Pat, Eric you guys are married is it tough?
PT: No, Every guy is different in what they believe and I believe in being faithful.
EM: I'm actually separated now, but when I was married I had no problem being faithful.

I'll stop pestering you now because I know you have to get ready to perform, but I want to thank you for talking with me and taking the time to answer all my questions and have a good show.

No problem.
Mr. Big was one of the friendliest bands I have ever met. Their professionalism was unrivaled and their love for playing after 10 years hasn't diminished at all. If you never heard of Mr. Big then I would suggest you go pick up one of their albums and try to see them in concert. If you want to know more about them then check out their websites:
www.billysheehan.com
www.richiekotzen.com
http://ericmartin.liquidcodedesign.com/
There is no official Mr. Big website so just go to your favorite search engine and type in their name.