Eugene Park
A few years ago, I heard about a Korean-American musician who was going to play in Korea, but he couldn't speak Korean too well. This interested me because; I am also Korean-American and I can't speak Korean too well. I went to an outdoor festival in Seoul and listened to some surprisingly pleasing music being played with an electric violin. I've never heard of an electric violin before, but the stream of music was great! That was the first time I saw Eugene Park. He was 21 years old then and a professional already. Two nights ago I met up with him before a concert.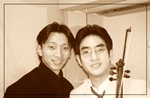 So when did you start playing the violin?

When I was 3.

Does anyone in your family play an instrument?

Actually, my cousin does. She really influenced me. My cousin is Seo Ju Hee; she is a well-known pianist who has performed with the New York Philharmonic. She's played in New York as well in Europe.

Did you always know that you had this talent?

Like I said, I started when I was 3 and when I was 8 I was accepted to the famous Julliard music school. I was the youngest student ever accepted there.

Did you feel a lot of pressure being the youngest student?

No, playing came very easy to me and I had a lot opportunity given to me. When I was 10 I played with the Wayne Symphony Orchestra and at 13 I played at the Lincoln Center.

Have you played in any other famous venues?

I played at Radio City Music Hall and at the Super Bowl.

So why did you come to Korea?

I was invited to play in an outdoor festival with other Korean musicians. I've always wanted to come see Korea and my schedule was free at the time.

How did you get hooked up with Sony Korea?

At that outdoor festival a few of Sony Korea's executives were there and they signed me there.

How would you describe your sound?

I'd say it's very alternative. I studied classical music in college, but I like Rock and Jazz. I'd like to be categorized as crossover.

How was the response with your first album "The Bridge"?

"The Bridge" went platinum in Korea and my second album "Peace" didn't do as well as the first, but the albums' sales were still very good.

Have you played with any other Korean artists?

I played with Kim Duk Soo. He is famous for playing the Korean drums.

What artists did you like when you were growing up?

I loved Jimmy Hendrix and John Lennon. I really respect Lennon for not only being a great musician but also being aware of many social issues. I also like Isaac Stern. Santana is one of my favorite groups now.

What have you got planned for next year?

I'll be releasing my third album next spring and I and I hope to expand my ability. I want all ages to listen to my music. I'm also teaching the electric violin at Yonsei University, and I hope to continue with that.

What has been your best experience so far?

Probably playing at the Presidential Inauguration of President Kim Dae Jung.

Last but not least, do you have a girlfriend?

No, my schedule is pretty busy and unfortunately I don't have the time for one.

Good luck with everything Eugene.

Thanks