Chu Min Sun
The 17th Annual Korean Fashion Design Contest was both exotic and refreshing. 33 contestants brought their ideas of what the new millennium will look like. Most of them were creative and modern and some had a touch of Renaissance yet only one designer could walk away with 1st place.
Chu, Min Sun was the winner this year. Her design of 'High Tech' and 'Space' won the judges over. Her inventive flair with the material she chose was very fresh and modern. After the show came to a close, two small girls came running up to her calling her mommy, mommy. I was surprised to find out she has 2 children and works full time for a textile company. Where she found the time to design was one of the many questions I had for. Fortunately, she lives in L.A. and speaks English very well, so I asked her for an interview if she had the time. After all the mayhem and thank you's were done we had some coffee and talked a little bit.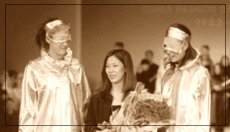 Congratulations!

Thanks

so you must be exhausted and happy
at the same time.

I'm just really happy

I was surprised to see that you have a family, where did you find the time to design?

It was hard, but I'd sketch a little here and there. Whenever I had free time I would draw a little. Usually late at night.

Where did you get your ideas from?

When I gather my ideas, I have to think about one thing first, so I thought about hi-tech, cyber, and space. I got the colors from that and then I chose the fabric and then I focused on the mood or feeling.

How long have you been designing?

I graduated F.I.T. 8 years ago with a textile major. After I graduated I went to work in the textile industry, but after a while I thought it was better to be a designer. I think I'm creative and designing lets me show off my creative side.

Are there any designers you admire like Anna Sui or Todd Oldham?

Sure, I really like Issey Miyake, love his style, fabric, and function.

Do you have any advice for new designers?

I'd tell them to focus on one idea instead of many. Focus on one and then try to find their style or mood.

You won a scholarship to study in Paris for a year, when will you go?

I can't because of my family so I'll have to pass on Paris unfortunately.

I'm sorry to hear that. Congratulations again and I wish you the best of luck.

Thanks